Welcome to the 38th Annual Meeting of the American Society of Retina Specialists
This year, the ASRS, the world's largest retina organization with over 3000 members worldwide, meets you where you are with unparalleled coverage of today's most compelling developments in retina science, clinical information and thought leadership.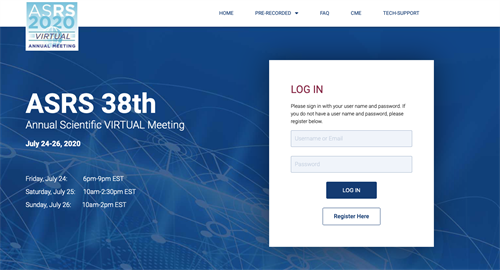 The virtual meeting site is live. Use the log on information provided via email by Ovation.
View the full meeting schedule.
Virtual Exhibit Hall Hours
Friday, July 24
6:00 pm–9:00 pm ET
Saturday, July 25
10:00 am–2:30 pm ET
Sunday, July 26
10:00 am–2:00 pm ET
---
The mobile meeting site is sponsored in part through a grant from Genentech. The ASRS is grateful to this company for their generous support.
---
Embargo Policy
As a reminder, all meeting attendees are required to abide by the strict embargo policy governing the virtual ASRS 38th Annual Meeting. Under this policy attendees must refrain from discussing, posting on social media or in any way communicating about meeting content (abstracts, podium presentation videos, posters and on-demand papers) until the following embargoes have lifted:
Embargoes on abstracts and podium presentation videos will lift at the conclusion of their respective live meeting symposium discussions. See meeting program for times.
Embargo for scientific posters and on-demand papers will be lifted at 2:00 pm (CT) on July 26, 2020.